Homes for Sale in Richmond Heights MO
Located in St. Louis County real estate, homes for sale in Richmond Heights MO are located in an inner ring suburb. The Galleria Mall is just outside the city limits and provides a great shopping experience. Richmond Heights MO Real Estate and Richmond Heights MO properties are a perfect addition to the St. Louis Real Estate market.
Get a Closer Look at Homes for Sale in Richmond Heights MO and Lifestyle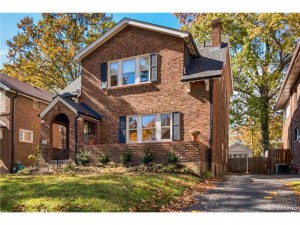 Richmond Heights real estate is made up primarily of established/older homes, the average aged home is 72 years. Homes for sale in Richmond Heights MO range in price from about $80,000 to about $1,000,000. The median home price in 2014 was approximately $425,000.
Residents of Richmond Heights can enjoy all of the public parks and facilities in the area and in an effort to support all of the communities, Brentwood and Maplewood facilities are all jointly shared.
The Maplewood Richmond Heights school district is one of the oldest in the County and covers a 2 mile radius. Please see Great Schools for up to date ranking on every school in the area.
If you are looking for a home for sale in Richmond Heights MO or you would be interested in buying a home in Richmond Heights, please contact St Louis County real estate expert, Sharon Colona and St. Louis Realty for a professional and simple buying or selling process. Call (636) 397-7653 or email at scolona@stlouisrealty.net.
7119 Dale Avenue
Richmond Heights, MO 63117
Property Type
Residential
New price! Move-in Condition! Great Bungalow, rehabbed in 2009 with Anderson Renewal thermal windows, kitchen with white cabinetry, solid surface counter tops, double sink and all appliances. The lovely bath with granite sink, large mirror & updated lighting also features a newer bath with curved bath rod. Fireplace in the living room is non-functional but could be converted to electric or gas. Front bedroom has a large rack for clothing in lieu of closet. Central bedroom has 2 large closets, bay type windows, and newer carpeting. Bright and cheerful breakfast room is used as the dining room, but the kitchen is also large enough for a table and chairs. Updated 200 amp electric service was installed along with a Trane 14 Seer Air conditioner and Trane furnace. A sump pump/pit was installed in 2013. There is a one car garage with asphalt driveway. Fabulous location near the Richmond Heights Community Center, shopping, dining and public transportation. Meets Richmond Hghts Compliance!